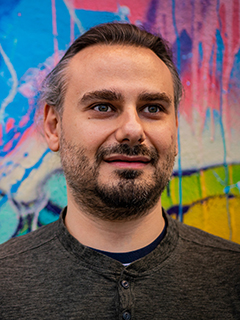 Luca Cubisino is a polyhedral and versatile artist, whose path is paved with performance, teaching, research, and organizational activity. Prize winner in more than twenty national and international piano competitions, he has played at prestigious venues in some of the major cities throughout Europe and the U.S. (Salzburg's Wiener Saal, Rotterdam's Doelen, Catania's Teatro Massimo Bellini, Cesena's Teatro Bonci, Rome, Bologna, Leipzig, New York, Miami, Austin, Atlanta, etc.).


During his formative years, Mr. Cubisino has worked with dozens of teachers: Antonella Scuderi, Flavio Meniconi, Franco Scala, Aquiles Delle Vigne, François-Joël Thiollier, Antonio Ballista, Choong-Mo Kang, Gerald Fauth, Bruno Canino, Enrico Pace, Anton Nel, Jason Kwak, Boris Slutsky, Marina Lomazov, Tian Ying, Naoko Takao, Kevin Kenner, among others. Always eager to learn new teaching methods, Mr. Cubisino has been focusing for years on the pedagogical approach of Vincenzo Scaramuzza, who taught the very young Martha Argerich. Thanks to Franco Scala, Mr. Cubisino was able to closely understand the peculiarities of this method, which he now applies to some of his students.


Besides his solo career, Luca Cubisino's love for chamber music has brought him to collaborate with incredible artists such as Dario Russo, a rising-star voice with whom he has been touring across the U.S. in 2018, performing Winterreise by Franz Schubert. In 2020, Luca Cubisino will be performing with the Italian Ensemble for a series of concerts that will feature them in different cities in Italy and the U.S., including the Weill Hall at Carnegie Hall in New York City.
Mr. Cubisino has been collaborating with the San Giacomo Festival in Bologna since 2011, helping with the organization of almost two hundred concerts every year, whose income supports the Daily Meal of the Poor at the Augustinian Fathers of Bologna (sangiacomofestival.it). He is also on the Board of Directors of Kaleidoscope MusArt, a non-profit organization that focuses its activity mostly on contemporary classical music (kaleidoscopemusart.com).


Mr. Cubisino is the Artistic Director of AmiCa, a Sicilian cultural organization for which he organizes AmiCaFest (amicafest.com), a 2-week piano festival in Southern Italy that embraces, besides regular activities (lessons and masterclasses), extra events such as exhibitions, book presentations, cultural classes, etc. Mr. Cubisino and AmiCaFest's staff work with no compensation for the good of the community and its cultural enrichment.


Luca Cubisino owns a Bachelor's Degree from Istituto Superiore di Studi Musicali "Vincenzo Bellini" in Catania (Italy); a Master's Degree from Hogeschool voor de Kunsten in Rotterdam (The Netherlands); a second Master's Degree from Conservatorio Bruno Maderna in Cesena; a third Master's Degree from Texas State University-San Marcos (U.S.), where he was awarded the 2014 "Piano Achievement Award"; and a Doctoral of Musical Arts' Degree from the Frost School of Music, University of Miami, where he also earned a keyboard pedagogy's cognate with Naoko Takao and served as Teaching Assistant. At the University of Miami, he was also the 2016 recipient of the Presser Award for his project of publishing and recording Ottorino Respighi's early piano works.


Mr. Cubisino currently teaches at the Preparatory Program of the Frost School of Music, University of Miami, where he is also the Director of a program he has developed specifically for advanced piano students (Frost Advanced Piano Program). The program offers a comprehensive curriculum that allows students to develop technical and artistic abilities at the highest level.